Museum of East Anglian Life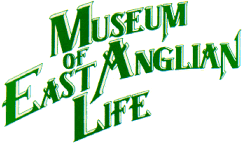 The museum is an independent trust which operates as a non-profit making company, limited by guarantee and registered as a charity. The 70 acre site is part of the former Abbot's Hall estate, generously made available in trust by the late Misses E.T. and V.M. Longe.
The museum's collections began under the aegis of the Suffolk Local History Council in the 1950s. The gift of a permanent site at Stowmarket made effective display and exhibition possible. Since the first public opening in 1967 the museum has steadily grown.
The museum has several buildings of historic merit and all, with the exception of Abbot's Hall barn, have been moved to the site. They include a watermill, a windpump, a blacksmith's forge, a chapel and an industrial workshop. A variety of displays covers subjects as diverse as domestic life, agriculture and industry.
Crops are grown to demonstrate old farming techniques, traditional breeds of farm animals graze and work the land. There is a regular programme of demonstrations and special events which help to interpret the collections more fully. Schools are catered for with specially prepared handbooks and worksheets and a programme of activity days, in which pupils are encouraged to participate.
For the visitor who wants to spend all day at the museum there is much to see and an attractive site to enjoy. There are plenty of picnic tables around and a cafe in the Home Close serving hot and cold refreshments.
The museum is open in 2003 from Sunday 30th March until Sunday 26th October, Mondays to Saturdays from 10:00 - 17:00 and Sundays 11:00 - 17:00
Events at the Museum in the Next 3 Months:
There are currently no events in the Stowmarket area during the next 3 months that we know about.